Funny Bunny has been studying Latin since First Grade so I was happy to review a Latin package from Memoria Press.
Memoria Press is a family-run publishing company that produces simple and easy to use classical Christian education materials for home and private schools. Memoria Press' educational philosophy can be best described as classical Christian education.
We received the entire First Form Latin package, which is an introduction to Christian Latin for grades 5 and up.
This package includes:
* Teacher's Manual with Answer Key (see
sample
)
* Student Text (see
sample
)
* Student Workbook (see
sample
)
* Quizzes and Tests Book
* Pronunciation CD
* Flashcards
* Instructional DVDs
The Teacher's Manual lays everything out nicely.
When you first open the Teacher's Manual, you are given Teaching Guidelines, which include an Introduction. The first sentence should put everyone who is thinking about teaching Latin to ease:
First Form is designed for teachers with or without a Latin background
. I feel better already! ;)
Then you are given a Lesson Overview, which is very helpful. Lessons can be given to a full class or just one student. A full week's schedule consists of the following:
1. Lesson
2. Workbook
3. Oral Drill
4. Quiz or Test
5. Optional additional resources
The Lesson Overview gives extensive information on each item above, which is very helpful. It takes you step by step.
The Teaching Guidelines also have ideas for games and review activities, information on how to develop a syllabus, and a sample lesson.
Below you can view a sample lesson
First Form's grammar-first approach focuses on grammar forms and vocabulary because those are the grammar stage skills suitable for the grammar stage student. However, the First Form Series is for students of all ages because all beginners, regardless of age, are in the grammar stage of learning.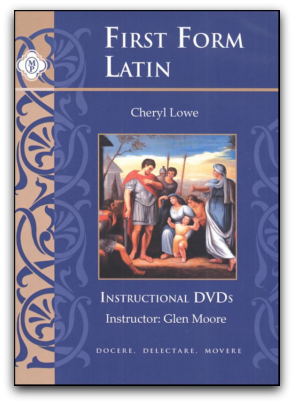 My Thoughts
: If you are a parent looking for a good Latin program for your child, I would recommend taking a closer look at Memoria Press.
And if you decide to purchase First Form Latin, I highly recommend getting the larger package, which includes the DVDs. I personally think the DVDs are essential for a successful year.
I also think the Teacher's Manual does a good job instructing the teacher on what to do, and it even lays out what to say next.
Find Out More
: You can find out more about First Form Latin and other Latin programs at
Memoria Press
. First Form Latin is for grades 5 and up and completion of the program is equivalent to one year of high school foreign language. The books are sold individually or in packages and you can see prices and more information
here
. The package I received, which includes the flashcards and DVDs, is $115. The smaller package is $55.
My Crewmates are also reviewing First Form Latin, along with Classical Phonics, so you can check out what they think
HERE
.

Disclosure: This product was given to Our Homeschool Reviews for free for review purposes, and I do not have to return the products to the vendor. I have received no compensation from it and all opinions and experiences within this review are my own.