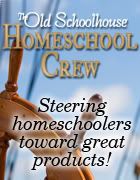 I wanted to share with everyone the crew that I am on this year for TOS. I'm excited to get to know these ladies better over the next year!
Our First Mate and 3rd year crew member:
Susan @
Homeschooling Hearts and Minds
Crew Mates:
Jessica @
Modest Mamma
Julie @
Fun In The Sun
Melissa @
Day In Day Out
We'll also be "blog walking" each week, so as a new list of blogs comes up, I'll try and post some on here.
Oh, and I should be doing another review soon, so stay tuned!!