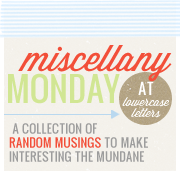 i have seen this meme on several blogs and thought i would join in. it's called miscellany monday and it's from carissa over at lower case letters.
~two~
i though i would go ahead with the lower case letter theme for this post...it is harder than it looks to not hit the shift key...lol!
~three~
i went to bed with a headache and woke up with one too. :( i took some excedrin and i feel a little better. must have been from an overload of sugar yesterday...i'm trying to stay away, but i swear i keep hearing the reese's calling my name...
~four~
i was so excited when i walked into wal-mart this morning at about 10:30 and it was empty. i had to do our grocery shopping and i can't stand it when that store is crowded. it made me happy!! :)
~five~
we went to the beach on saturday and did not reapply our lotion as early as we should have. hubby, who was out surfing got quite red. our daughter got her first touch of pink in a few places where her bathing suit met her skin (thankfully it was minor). i got just a little pink on my back, but i stayed under our tent for about the last 45 min.
while laying there, i smelled something familiar. i looked over to the teenage girls next to us and i couldn't believe my eyes. they were actually spraying on the banana boat oil, spf 2 or 4, in that yellow and brown bottle. i remember using that when i was younger...you can never forget the smell. i was just so surprised, especially with what we know about skin cancer. We were using spf 30 so i can only imagine how red they were going to be.