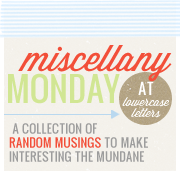 this weekend was our two-day championship swim meet. the first day was just too long and since the kids can only sign up for a limited number of swims, it was three long and hot hours before she even swam. :( sunday was better though and she placed 2nd with her medley relay team and 4th in the breaststroke. it was a fun season but it's quite a commitment to get up at 7am four days a week to swim. we are looking forward to the break.

~two~
today starts our jr. homemakers club. our dd is super excited because she gets to use a sewing machine. i showed her the basics of getting it ready yesterday so she is a little familiar with it today. can't wait to tell you more about it and show off her projects!
~three~
hubby and i are finally going to be able to get away this weekend. as i type this we still do not know where to go. since it will only be for a few days we don't want to drive too far. our 11th anniversary was in june so this is our belated trip.
~four~