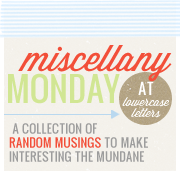 ~one~
it's labor day and, yes, we are doing school today. daddy is home but have a short school week because of some other activities later on, so this will keep us from falling too far behind.
~two~
yesterday we visited hubby's parents to celebrate labor day. menu items included grilled chicken, sausage, corn on the cob, cole slaw, fruit and vegetable trays, chips, brownies, and some yummy hot apple pie with vanilla ice cream. activities included movies and playing in the pool. it was a fun and relaxing time.
~three~
since daddy is home today, he cooked soup for lunch. we'll call it vegetable-bean-hot dog soup. my daughter is calling it "hot dog soup." he pretty much added whatever we had lying around. everyone gave it two thumbs up!