Last year I had the opportunity to review a really cool math card game by I See Cards called
Pyramath
and today I am going to tell you a little about another card game of theirs called
Fractazmic
.
From the website
:
Fractazmic is a comprehensive interactive fun lesson in fractions that gives your child unlimited practice at their individual level.

Each brightly colored card displays fractions, along with eye catching graphics, to ensure reinforcement. Players will quickly identify the fractions on their cards and calculate their way to fun and learning! Fractazmic teaches fractions, numbers and measurement.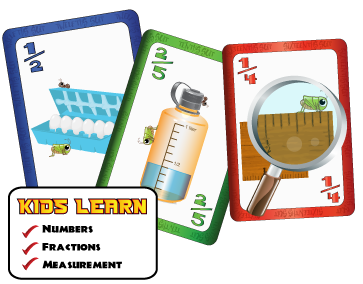 Funny Bunny is just now learning more about fractions in math and after playing a couple games with her, I am realizing I don't know my fractions as well as I should. Hmmmm....
Well, thank goodness the creators made the game fun and easy to play by including cute pictures on each card. So if you aren't sure what 3/8 or 7/16 are, you can figure it out by using the picture. This is great for beginners.
The deck of 60 cards has three suits in three different colors:
Green: Tenths (1/10, 1/5, 3/10, 2/5, and 1/2)
Blue: Twelfths (1/12, 1/6, 1/4, 1/3, 5/12, and 1/2)
Red: Sixteenths (1/16, 1/8, 3/16, 1/4, 5/16, 3/8, 7/16, and 1/2)
Fractazmic can be played with 2-4 players (or just one) and is recommended for grades 1-8. Players take turns trying to make suits by adding fractions and summing to one. The deck can be used to play a couple different games though, one of which you can see being played below.
And if your child is new to fractions, you can use only one set of cards like we did. Using all three suits was a little overwhelming for Funny Bunny so we played with just the Blue cards. As she gets better, we will add in more cards.
Thoughts of an 8-Year Old: I like Fractazmic because it helps me with fractions and I am now better at them. I think the blue cards are the easiest to play with. The blue cards show a carton of eggs, the red show inches, and the green show a water jug. Fractazmic is fun and easy to play and I hope we can review yet another I See Cards game soon!!!
Find Out More
: You can find out more about
Fractazmic
online. A single pack sells for $6.95 and you can buy packs of five or ten for a group or class. And if you would like to try to play the Fractazmic Speed Version for free, you can try it
here
.
My Crewmates are also reviewing Fractazmic, so you can check out what they think
HERE
.

Disclosure: This product was given to Our Homeschool Reviews for free for review purposes, and I do not have to return the products to the vendor. I have received no compensation from it and all opinions and experiences within this review are my own.