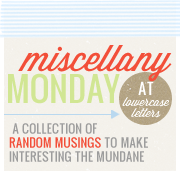 wow, it's been since wed since i posted...sorry about that. things got a little busy toward the end of the week.
~

two

~
funny bunny had her first american girl book club meeting of the new year on friday. they started the josephina series and had to read books 1 and 2. there were 20 girls in attendance and they sat in a circle for about 30 minutes and chatted so nicely with each other about the books. then they made little bowls out of air dry clay. ours is just about ready to paint. and if i could find my camera card, i would take a picture and post it.
i went to thirty-one's spring product premier on saturday morning. they were held at movie theaters across the country. it was an interesting and exciting experience to be with other thirty-one ladies, watching the new patterns and products revealed. more to come later...
~

four

~
funny bunny had a stuffy nose at the beginning of last week, and although she had been clear for a couple days, hubby and i woke up on saturday with it. :( It's only a stuffy nose for both of us...hoping today is the last of it.
still am not telling what hubby got for us for christmas to keep our new year resolution to get fit. i am giving it one more week to try before i let the cat out of the bag. ;)