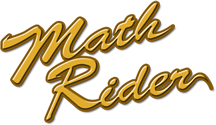 If you have a child who struggles in math, finding a fun
math facts game
like Math Rider may give them the help that they need.
MathRider helps children practice their addition, subtraction, multiplication, and division from 1 to 12, as they ride their horse on noble quests through the magical MathLands.
Each operation contains four quests ranging from easy to master. Although the quests are the same across all four operations, the rewards are not, and they are animated according to how well the rider answered the questions.
MathRider Features:
* Game Intelligence: The game keeps track of what your child has missed and what they haven't. They won't continue to be asked math facts they know, but instead they will be asked those facts they need to work on. The speed of the rider is also automatically adjusted depending on how fast or slow they answer questions.
* Entertaining. There is an interesting story and quests that must be completed that take place in a land of fantasy. As the rider continues the quests on their horse, Shadow, they enter new and different lands.
* Easy Game Play. All your child needs to do is key in the correct answer to the equation and press 'Enter'. The game does the rest. Sound effects, animation, riding speed and so on are automatically controlled and adjusted. In this way, your child can fully focus on practising their math while still enjoying a highly entertaining game.
* Record Keeping and Statistics. It is amazing to see the statistics that the game keeps track of. The riding results show the results of every question that was asked in the ride as a series of color coded vertical bars. Green indicates quick (or quicker than before) answers, whereas yellow and red indicates that the question did not get answered as well as before.
Every question that is answered during a quest is recorded in the database. Based on all these questions, the 'My Statistics' screen shows a visual presentation of a rider's current strengths and weaknesses.
If you are a rider, here you can assess your strengths and weaknesses and prepare for your next ride. If you are a parent you can see what your rider needs assistance with.
My Thoughts: We used MathRider last year when Funny Bunny was memorizing her addition and subtraction facts and now she is working on her speed and accuracy of her multiplication facts. MathRider has been a great help with both and I know we will use it for division later in the year as well.
Thoughts of an 8-Year Old: Math Rider is super duper fun!!! It's a great program and I love it. It's so cool; every time you do a new quest you get to watch a 'Quest Story'. There are 30 questions in each round. The better you do, the more you progress to wherever you're going. You can even practice your skills with up to 100 questions! I absolutely LUV it!
Find Out More
:
MathRider
is available as an instant download for $37 (the price will increase to $47 on February 15th so act quick).
The game is designed for children between the ages of 6 and 12. Although it is not a multi-player game, it can be played by up to 8 players (each purchase allows you to install MathRider up to three times, including on different computers in your family home.). Each person creates their own rider and chooses their own adventures. You can then compare the performance of all players on the High Score screen.
MathRider is backed by a 30-day, 100% money back guarantee and you can try a
7-day FREE trial
before you buy.
You can also like them on
Facebook
and get a coupon code for $5 off!
My Crewmates are also reviewing the MathRider, so you can check out what they think
HERE
.

Disclosure: This product was given to Our Homeschool Reviews for free for review purposes, and I do not have to return the products to the vendor. I have received no compensation from it and all opinions and experiences within this review are my own.