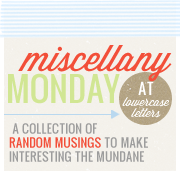 ~one~
i feel like i have been in over my head in reviews and giveaways lately and i haven't been able to post about much anything else, so here are some really random musings...
~two~
~four~
funny bunny turns 9 next month...where did the time go??

~five~
we've been watching documentary shows about the titanic on the history channel all weekend long.
~six~
i've been wrapped up with my thirty-one business lately too. did you know that starting today, april 16th to may 31st, they are offering an enrollment kit rebate?! i wish that was available when i started! contact me if you want to know more...
~seven~
i love this picture of funny bunny...i just have to show it again (this time in sepia).
~eight~
ok, that's enough randomness...lol!