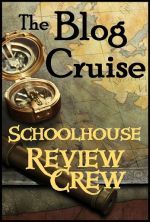 The SchoolHouse Review Crew
is talking about ways of beating the summer heat...and this is perfect timing because it is HOT out there!
Here are some ideas for your and your family:
1.
Start School
. I know for some it is hard to grasp, but we start school in the summer so we can take off in the fall and spring when it is cooler. I would rather be outside when it's 80 instead of when it's 100+.
2.
Go to the Movies
. Our local movie theater runs movies for kids every Thursday and the cost is only $2 for the movies, a drink, and a popcorn. What a deal...and in the air conditioning!!
3.
Try the Library
. Many libraries have summer reading and event programs. These are great for kids of all ages and FREE!
4.
Water Day
. If you are like us, you don't have a pool, but why not set up a backyard water obstacle course. Put out a couple sprinklers and just let the kids have fun for a couple hours.
5.
Crafts
. Pull out all those crafts that have been stuck in the back of the cabinet or drawer since last Christmas...you know you have them. ;)
6.
Play Doh
. I don't know about you, but my child can play with this for hours.
7.
Cooking
. Have a baking day and make some homemade bread or muffins. We are planning to make Chocolate Chip Banana Bread and Biscuits this week.
8.
Car Wash
. It may seem like a chore, but just let the kids have fun with it...maybe even set up the sprinklers around it. Hmmm, I think I'll put this on our schedule this week!
What are you doing to beat the summer heat?