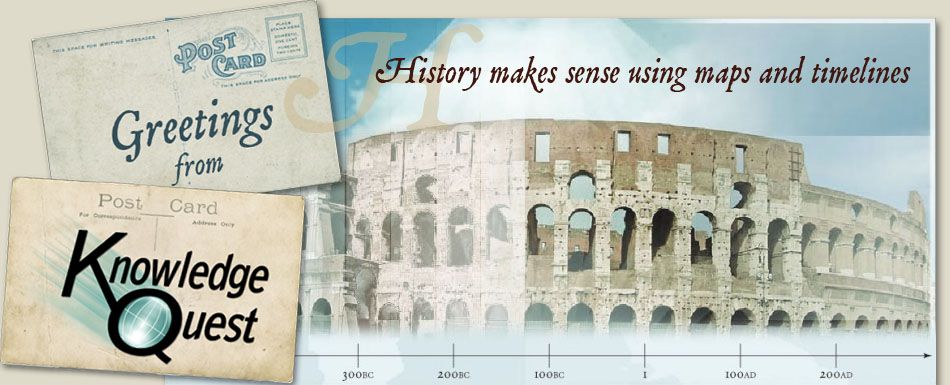 Have you heard of Knowledge Quest? They began back in 2001 by a homeschool family
who had a desire to produce simple black and white maps that children could label and color while studying both world and American history.
Fast forward to today, and they have more products that I could name, one of them being TimeMaps.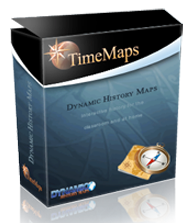 The goal of TimeMaps is to communicate history in a truly engaging way. To do this, we use a combination of timelines, historical maps and encyclopedic entries merged together to deliver authoritative content that can be digested in an enjoyably way. TimeMaps are computer software files that use Flash - a free program from Adobe. Maps are shown in chronological order at the click of a button and progress at your timing, showing how civilizations, countries and continents have changed over time. Quizzes and encyclopedic entries are included and can be turned on and off at your discretion. TimeMaps are a work in progress with many Ancient and Medieval civilizations having reached completion with more historical topics on the way.
We've broken the TimeMaps into individual units with coordination Teach Notes for the optimal teaching experience. This way, you can affordably purchase JUST the maps that you are going to use this year. However, we have also grouped them together into a Collection so that you can get them all at once at a tremendous cost savings.
Currently available: Ancient China, The Rise of Rome, The Fall of Rome, The Rise of Islam, The Black Death, European Exploration, and The Atlantic Slave Trade.
Doesn't that sound neat? I thought so, and wanted to learn more

!
This year we are studying Creation through the mid 1900's, so one map I know we will be using is the Rise of Rome. Once downloaded, you run the program and come to the following screen where you have the option to start the program, view worksheets, or explore world history with their free, award winning online atlas.
When you choose to start the map program, the first map you come to is below, the Roman Empire in 500 BC.
The great thing about this program, is not that you get just a map, it's that it is entirely interactive!! See that little "i" in the circle below 500 BC? Click that and below you can see people, places, and more information have been added.
I can click on any of the people or "i" icons and get more information in the box on the left. Then clicking on the "Q" will bring up questions about what I just learned.
And this is just ONE of the maps! Each set is in chronological order and I can click the arrow to see what happens next in history.
The Rise of the Roman Empire has 12 maps that span from 500 BC to 182 AD, all which are interactive and show how Rome spread over the area.
And in addition to the interactive maps, worksheets, and access to their free online atlas, you also get a PDF to go along with each map. This document gives an introduction of the program, activity suggestions, commentary on the maps, blank timeline pages, and teacher and student maps.
My Thoughts
: I know these are going to be a wonderful addition to our homeschooling! When we get to the Rise for Rome, for example, I will simply have Funny Bunny use the interactive maps to learn the information. She can then go back and answer the questions and I'll print out the blank map from the PDF and have her label it for the time period we are studying.
Find Out More: You can find out more online at
Knowledge Quest Maps. You can purchase the TimeMaps Collection for $44.95 or individual maps for just $9.95. The Collection

includes all 7 sets - 75 dynamic, animated maps, quizzes and encyclopedic information for each, as well as complete Teacher Notes with activities, map commentaries, timeline pages and student maps to label and color (

and you save $24.70 over purchasing individual sets).
My Crewmates are also talking about Knowledge Quest, so you can check out what they think about it HERE.

Disclaimer: This product was given to Our Homeschool Reviews for free for review purposes, and I do not have to return the product to the vendor. I have received no compensation from it and all opinions and experiences within this review are my own.