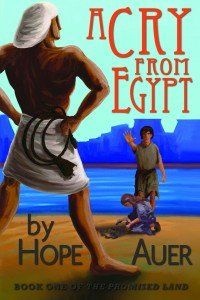 Great Waters Press
, which published the practical guide to
Raising Real Men
by Hal and Melanie Young, has two new books coming out.
I was given an opportunity to review one of the two and so I received
A Cry From Egypt
by Hope Auer.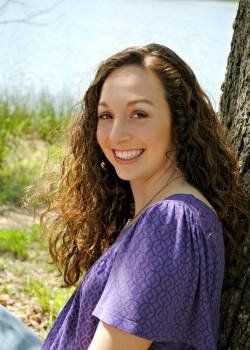 Hope Auer has been writing stories and plays actively since she was very young. Through her schooling years she developed a passion for history and telling stories which eventually culminated in the writing of "The Promised Land Series." In addition to writing, Hope loves the Lord, life, church, family, and children. She was homeschooled and works and learns alongside her family, who are the first people to read her books. Hope has a heart for children that is evident as she helps in youth theatre, teaches piano, and writes stories.
Funny Bunny and I were very excited to receive this book because we just happened to be reading about Egypt..and Moses. Isn't it wonderful how God works things out like that?!
I assigned Funny Bunny to read at least a chapter a day. She devoured this book! Most of the time she wanted to read more than what was assigned.
Here is what she had to say about it:
A
Cry from Egypt by Hope Auer (Book One of The Promised Land) is a book about a little girl named Jarah, her sisters Tirzah and Shayna, her brothers Etain, Lemuel, Raphel, Yanni, and Ezra, and her mother and father (not to mention her friends Ada and Acenith). For them, life is normal for average Hebrews - brick making for the boys and men and cleaning and cooking in the palace for girls and women. Until suddenly, two men named Moses and Aaron enter the city and change things up. First the water turns to blood, then flies – what are the Egyptians to do but let the people of Israel go?
Will Ada be forced to marry Paki, the boy in the palace, and not Etain? How will the family keep peace if Mother and Father have different beliefs? What will the children, who are torn between the God of Israel and the gods of Egypt, choose to believe? And will they ever be free?
I
liked A Cry from Egypt because it's exciting, fun, and I couldn't wait to read what's next (once I was assigned to read one chapter and I read three)! It has friendship, love, and adventure and you don't even notice you're reading history. It's a great book for all ages (especially nine year olds!)
She loved this book so much that she already wants to get the next book in The Promised Land Series!!
And what I love even more is that both the author and illustrator were homeschooled! What a testimony to homeschooled children! Funny Bunny loves to write and one of her aspirations is to write a book for children. Through reading about Hope, she can see that with hard work, she can accomplish her goal!
Find out More: You can find out more online about the book and author at A Cry From Egypt. Order an advance copy of A Cry From Egypt for just $12.50. It's recommended for ages 8 and older.

My Crewmates are also talking about A Cry From Egypt and Children in the Church, so you can check out what they think about it HERE.

Disclaimer: This product was given to Our Homeschool Reviews for free for review purposes, and I do not have to return the product to the vendor. I have received no compensation from it and all opinions and experiences within this review are my own.