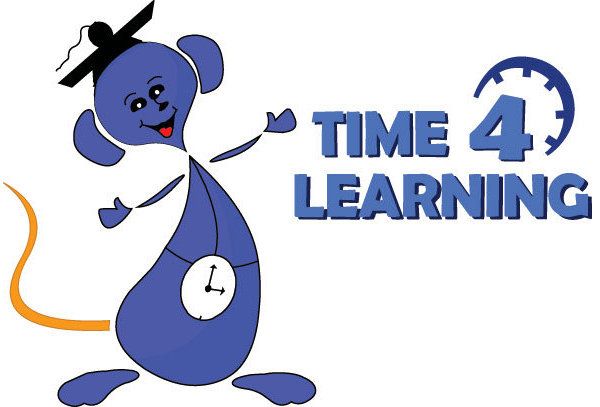 Time4Learning
provides an interactive, online, and educational experience for children in preschool through high school. It uses a combination of animated lessons, interactive activities, and reinforcing worksheets to teach Math, Language Arts, Social Studies, and Science.
Time4Learning includes the following:
* Online curriculum for Pre-K through 12th grade
* Thousands of interactive, animated, and self-paced lessons
* A safe, private, ad-free, online learning environment
* Lesson plans, automated reporting and guides for parents
* Flexibility to start, pause, and cancel your account anytime
It is web based, so there is no software to download or CDs to purchase. Members can access the program 24/7 from anywhere with a computer and an Internet connection.
Here's how it works:
Once a member, both you and your child(ren) will have a login. You determine the grade level for your child and they will be given access to three years of curriculum (one grade above and one below their level).
Once logged in, your child can choose between Language Arts, Math, Science, or Social Studies. Lesson plans are by grade and subject, which you can see below.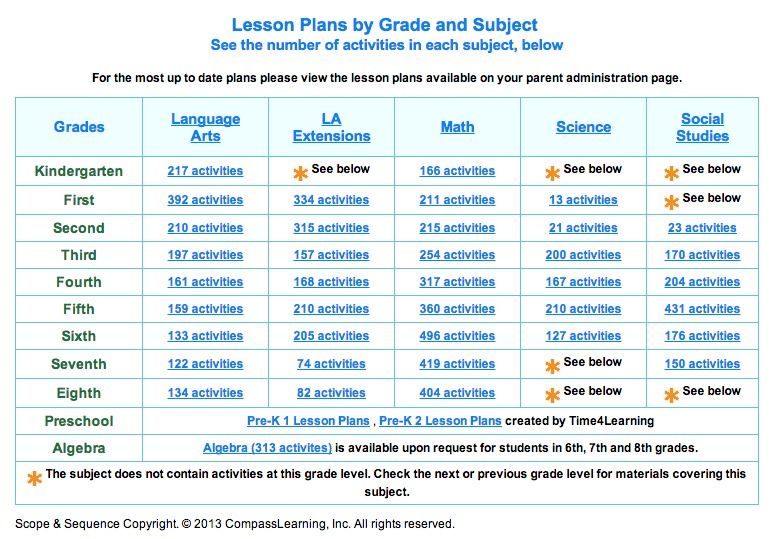 You can click

here

to see the interactive Scope & Sequence Chart.
Once a subject is selected, your child will complete the lessons in order (by following the arrow). Here is Language Arts for 5th grade.
You can see the arrow is pointing to the first picture, which is Vocabulary Skills. Once clicked, your child would be directed to choose a lesson. Also notice the three grade levels at the top you can select.
Below, you can see Funny Bunny has already completed the first two lessons in the Vocabulary Skills section, so the arrow is pointing to the third.
Below are two samples from the
Language Arts
section for 5th grade, which is the section Funny Bunny enjoyed the most. Very educational AND entertaining. We were laughing together many times!
Math was actually her next favorite, because it was also fun and entertaining. Here's a similar screen shot. Again, it was very interactive with the student.
We both thought Social Studies and Science, however, were pretty dry. Unless we overlooked it, there were no entertaining and interactive screens. You just read the information, as you can see below. Funny Bunny did not like it. We hope they are planning to update both sections so they are similar to the Math and Language Arts.
Finally, when the parents log in to their account, they can track their child's progress, which is a great feature.
Thoughts of a 10-Year Old
: I really like Time4Learning Language Arts as the characters are silly and the quiz is crazy. I like Math too because it was interactive. The only thing I didn't like about Math was that when the problems were repeated and I already knew it, I couldn't move on. There should be a button you push that says, "I've got it" if you have got the concept. But other then that, Math was pretty fun. But with Social Studies and Science there were no funny characters or silly shows, just pages of text. Other then those two subjects, I liked it very much.
Find Out More
: You can find out more online at
Time4Learning
. The monthly membership for PreK-8th grade is currently $19.95/mo for the first child and $14.95/mo for each additional child. For high school it's $30/mo for up to 4 courses. They offer a 14-day money-back guarantee, and there are no contracts, so you can cancel anytime. To learn more you can read
Hints on Getting Started
.
My Crewmates are also reviewing
Time4Learning
, so you can check out what they think
HERE
.
Don't miss a thing!
Subscribe to Our Homeschool Reviews
and get our articles right to your inbox!
©2010-2013 Our Homeschool Reviews. All rights reserved. All text, photographs, artwork, and other content may not be reproduced or transmitted in any form without the written consent of the author. http://ourhomeschoolreviews.blogspot.com/