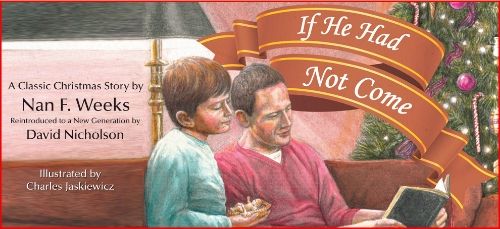 Every year in December we pull out all of our books about Christmas and place them in the family room so we can snuggle on the couch and read them each night. I've found a wonderful book that I'll be adding to our Christmas book stack. It's called
If He Had Not Come
, by
David Nicholson
.
If He Had Not Come
is a classic Christmas story originally written by Nan F. Weeks, and now reintroduced to a new generation by David Nicholson, and illustrated by Charles Jaskiewicz.
David Nicholson is a retired teacher and short term missionary. He discovered Nan Weeks' story when his children were young and later decided to reintroduce the story to today's generation of families with classic style illustrations.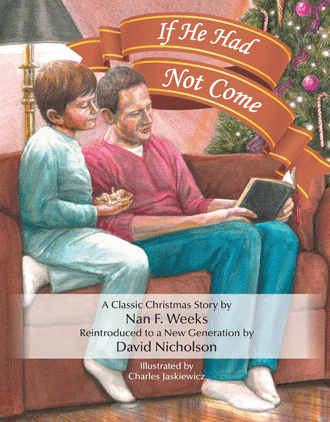 If He Had Not Come
is a story of a young boy named Bobby, who finds out on Christmas Eve what the world would be like if Jesus had never come to Earth. Before going up to bed, he and his dad sat together for their daily Bible reading. His dad read from John 15:22 -
If I had not come and spoken to them, they would not be guilty of sin; but now they have no excuse for their sin.
He couldn't get those five words out of his mind -
"If I had not come."
The author takes us on a journey through a world without Jesus. There is no Christmas, no churches, no places to help people who are sick, homeless, or in need, and no Bible!
In the end, Bobby realizes that the gifts under the tree aren't the most important thing about Christmas.
Included in the back of the book are interactive topics for families and Sunday School teachers. There are some great open-ended questions that are intended to encourage interaction and discussion.
There is also a page that goes a little deeper by exploring what the Bible says about the birth of Jesus by asking children several thought-provoking questions.
Lastly, there is The Gospel Message. For those who have never heard it, receiving God's gift of salvation is as easy as A-B-C. So simple and I love that the author included it in his book for all to read.
My Thoughts
: I read this book aloud to Funny Bunny, my 11-year old daughter. We both really enjoyed the story as well as the beautifully illustrated pictures. I would highly recommend that all families add this title to their Christmas book collection.
Thoughts of an 11-Year Old
: If He Had Not Come is a good book, with beautifully illustrated pictures. It shows what it would be like with no Jesus in the world. It was a good book to understand what the meaning of Christmas is all about. I liked it and would recommend it to all young readers.
Find Out More
: You can find out more online at
David Nicholson
.
If He Had Not Come
is $18.95 for the 40 page, 8.5x11, Casebound Hardcover or $3.99 for the E-Book. This story is recommended for ages 6 and up.
You can also find more on
Facebook
.


Don't miss a thing!
Subscribe to Our Homeschool Reviews
and get our articles right to your inbox!
©2010-2014 Our Homeschool Reviews. All rights reserved. All text, photographs, artwork, and other content may not be reproduced or transmitted in any form without the written consent of the author. http://ourhomeschoolreviews.blogspot.com/