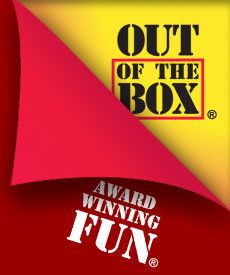 I've said it before and I'll say it again....we LOVE playing board games at our house!! It's the perfect way to spend quality time together while having a fun time and just hanging out!
We have a huge collection of favorites, some we tend to play over and over again.
I've been excited to share with you that we have found another great game to add to our very large collection...
Snake Oil
by
Out of the Box Games
.
Out of the Box Publishing feels games should be fun so they set out to create innovative party, card, and board games that are fun and engaging to play with friends and family.
Their website is catchy and bright and their games are categorized by: Party, Quick, or Engaging. There is also an interactive Game Finder that let's you find the perfect game based on the number of players, ages, and type of game.
The idea for the game Snake Oil came from the Old West. Back in the day, sneaky snake oil salesmen would be able to get the most skeptical customer to buy their product. In Snake Oil, that is what the players get to do...convince the customer they should buy their, sometimes crazy and weird product.
Thoughts of an 11-Year Old
: Snake Oil is a very fun game, and it has lots of silly results. It is a Pitch-A-Product game, and it can get very goofy. Here is the main idea of the game.
Players One, Two and Three draw cards to create a hand of six.
Player Two draws a Customer Card. "I'm a snake! Sell me something I need!"
Players One and Three look at their cards and combine two to make a silly product.
Player One holds up cards. "I'm here to sell this snake a Spine Cloth. You can use it to..."
Player Three holds up cards. "I'll sell you an even better item called a Tail Hat. You can use it to..."
Player Two hands the Customer Card to Player One. "I'll buy the Spine Cloth."
Player One wins because they received the most Customer Cards after everyone was a customer once.
I think Snake Oil is a really fun and cool game. Everybody gets an armload of silly, and they can use it to really invent something useful, or something only an Alien would want! And, as they say, laughter really
is
the best medicine!
My Thoughts
: We have really enjoyed playing this game together. It has been challenging to think out of the box and make each other laugh. I think it would make a great Christmas present. Even though the recommended age is 10, I think if child can read, they will be able to play this game.
Find Out More
: You can find out more online at
Out of the Box Games
.
Snake Oil
has a suggested retail of $19.99 and can be found online at various retailers. It's recommended for ages 10 and up and for 3-10 players.
You can also find Out of the Box Games on
Facebook
,
Twitter
, and
YouTube
.


Don't miss a thing!
Subscribe to Our Homeschool Reviews
and get our articles right to your inbox!
©2010-2014 Our Homeschool Reviews. All rights reserved. All text, photographs, artwork, and other content may not be reproduced or transmitted in any form without the written consent of the author. http://ourhomeschoolreviews.blogspot.com/