This week is much of the same but I wanted to share with you a new recipe we are going to be trying this week. A friend passed it on to me from the Top 15 Vegan Recipes from 2012 from Oh She Glows.
Black Bean, Sweet Potato, and Red Quinoa Soup
Yield: 4-6 servings
Ingredients:
1 cup uncooked red quinoa, rinsed and drained

1/2 tbsp coconut oil (or other oil)

3 garlic cloves, minced

2 cup diced sweet onion (about 1/2 large)

1 jalapeno, seeded if preferred and diced

1 large sweet potato (350 g), peeled and chopped to 1/2-1 inch dice (2.5-3 cups)*

1.5 tsp ground cumin

1 tsp chili powder

1/2 tsp ground coriander

6 cups vegetable broth

1.5 cups cooked black beans (one (15-oz) can rinsed and drained)

fine grain sea salt and black pepper, to taste (I used 1/2 tsp salt or a bit more)

1/4 tsp cayenne pepper (or red pepper flakes)

2 handfuls Spinach or kale leaves, optional

toppings: avocado, corn chips, cilantro, cashew cream, lime juice, tomatoes or salsa, green onion
1. In a medium-sized pot, add quinoa along with 1.5 cups water. Bring to a boil, reduce heat to medium, and cover with tight fitting lid. Simmer covered for about 17 minutes or until the water is absorbed and quinoa is fluffy. Remove from heat, fluff with fork, and keep it covered until ready to use.
2. Meanwhile, heat oil in a large wok or pot. Add garlic and onion and sauté for a few minutes over medium heat. Season with salt and pepper. Now add in the jalapeno and sweet potato and sauté for 5-7 minutes more.
...visit Oh She Glows for

the complete recipe.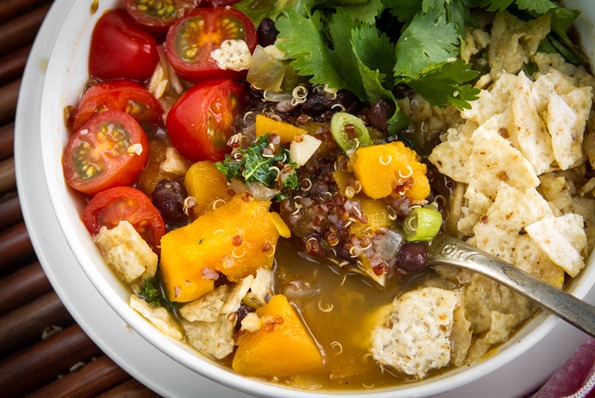 Doesn't that look yummy?! I can't wait to try it!