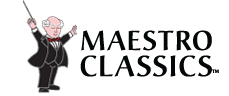 Do your children enjoy listening to music and stories on CD? If so, you really need to check out
Maestro Classics
. We learned about them back in 2001 and have since purchased a couple of their CDs. Then just recently we had the opportunity to review two more CDs:
Mike Mulligan and His Steam Shovel
and
The Sorcerer's Apprentice
.
Maestro Classics has created a classical music CD series for children ages 5 to 12 and their families. The series includes narration and performances with the London Philharmonic Orchestra along with child friendly stories and explanations.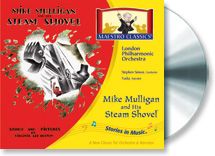 Mike Mulligan and His Steam Shovel is a fun story about Mike and his steam shovel Mary Anne. Mike Mulligan and Mary Anne have worked together for a long time and have dug trenches and canals through mountains and have made airports for the planes.
But when the new gas shovels and the new diesel shovels and the new motor shovels took the place of the steam shovels, will Mike Mulligan and Mary Anne be able to find any more jobs where no one wants them anymore?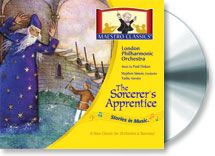 The Sorcerer's Apprentice is about a magician and his young apprentice Fritz. The sorcerer has only done magic in front of Fritz once, to bring water to the well. But he has ordered Fritz to do no magic. One day, the sorcerer goes out, telling Fritz to bring water to the well. Fritz tries the spell, but soon water is everywhere and it's out of Fritz's control, only knowing one magic spell. How will Fritz solve his problem?
We listened to both CDs multiple times in the car. Both come with a 24-page activity book that includes biographies, sheet music, information on instruments, games, and more.
My Thoughts
: These CDs are great for young and old alike! I love how they mold children's literature with classical music in a way that is enjoyable for kids of all ages. And the booklets that are included have a wealth of information. Funny Bunny enjoys reading through them while the CD is playing.
Thoughts of an 11-Year Old:
I didn't have a favorite between the two. I liked both the Sorcerer's Apprentice story and the Mike Mulligan music. I guess that makes them even. But I did like, in Mike Mulligan, how they interpreted their music. If you'll listen closely when they talk about Mike Mulligan and Mary Anne digging huge canals, for instance, they play a mix of "Eerie Canal" and "What Should We Do with a Drunken Sailor". And, of course, if you've seen Disney's Fantasia, you'll guess why I like the "March of the Brooms" song in the Sorcerer's Apprentice!
Find Out More
: You can find more online at
Maestro Classics
.
Mike Mulligan and His Steam Shovel
and
The Sorcerer's Apprentice
are each $16.98 for the CD or $9.98 for the MP3 download. Mike Mulligan is recommended for ages 4+ and families and The Sorcerer's Apprentice is recommended for ages 6+ and families.
You can also find Maestro Classics on
Facebook
or
Pinterest
.


Don't miss a thing!
Subscribe to Our Homeschool Reviews
and get our articles right to your inbox!
©2010-2014 Our Homeschool Reviews. All rights reserved. All text, photographs, artwork, and other content may not be reproduced or transmitted in any form without the written consent of the author. http://ourhomeschoolreviews.blogspot.com/